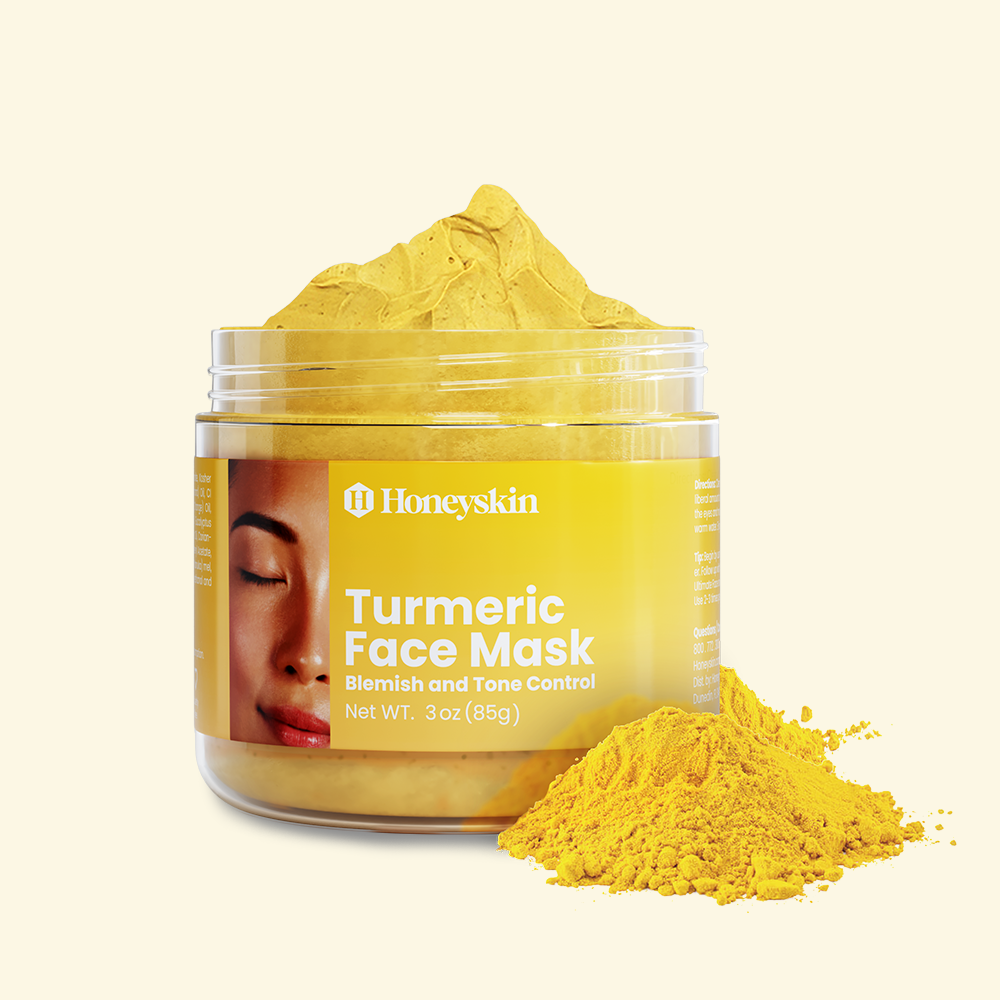 Benefits of Honeyskin Turmeric Anti-Blemish and Moisturizing Face Mask
by Renz Paulo Rodriguez  |  4 min read
It's not impossible to achieve moisturized and blemish-free skin, thanks to our popular Honeyskin's Turmeric Anti-Blemish and Moisturizing Face Mask! This face mask has recently become very popular online due to its excellent and extraordinary skin-care benefits. Now, it's time to share with you some of the skin-loving benefits of our turmeric face mask. 
1. Helps moisturize skin while reducing acne blemishes.
This facial mask is specially formulated with turmeric and other skin-loving botanicals to help calm irritated skin that may be caused by acne. Turmeric contains antioxidants and anti-inflammatory components which may provide glow and luster to your skin. You can use this face exfoliator as often as you need for visibly brighter, more moisturized, healthier, and smoother-looking skin.
2. Helps fade acne scars while fighting signs of aging.
Infused with Ginger Root Oil, this skin care face mask that also works as a facial cleanser contains antioxidant and toning properties that help to break down collagen, making it a natural and effective way to fight wrinkles and blemishes while fading the appearance of acne scars. Moreover, Ginger Root Oil is a naturally-derived ingredient that protects skin against free radicals while improving elasticity, leaving your skin looking young and healthy.
3. Helps provide deep and long-lasting hydration.
Not your ordinary blackhead remover face mask skin care products. This deep pore face cleanser with Vitamin E provides intense hydration from Aloe Vera, Manuka Honey, and sweet almond oil. Not only does this face moisturizer clay mask benefits oily skin but also acne-prone skin. Infused with a unique blend of kaolin and bentonite clay mask, this leaves you with fresher, smoother, and healthy-looking skin. 
4. Helps remove deep-seated dirt and impurities.
Enjoy the sweet smell of Grapefruit oil while we transform your skin into its healthier version. Made in the USA, this responsibly sourced pore minimizer and dark spot corrector will give you a spa-like treatment while removing deep-seated dirt and impurities as it detoxifies your skin. Say goodbye to the days of having to spend a fortune to achieve that soft, smooth, and glowing skin. You can now have this luxury face care in a jar.
5. Helps protect skin from damage.
Achieve visible results, even with sensitive skin. Manuka Honey balances the pH level of your skin to protect it from damage. Unlike other facial skin care products that can be drying to your skin, our facial mask locks in the moisture to your skin to prevent dryness and redness. We care about your skin so much that we made our product free of harmful chemicals that may harm and cause skin irritation.
6. Full-packed with naturally-derived ingredients.
For your reference, here are some of the naturally-derived ingredients of Honeyskin Turmeric Anti-Blemish and Moisturizing Face Mask:
Curcuma Longa Root Oil (Turmeric): A naturally-derived ingredient that has anti-inflammatory, antimicrobial, and antioxidant properties that can help prevent breakouts, fight eczema & psoriasis, reduce acne scarring and brighten dark circles. 
Aloe Leaf Juice: A naturally-derived ingredient that helps moisturize skin and can help treat various skin conditions, including acne and eczema. 
Kaolin: Mildest cosmetic clay rich in silica & with a neutral pH that absorbs sebum and prevents pore-clogging, drawing out impurities and toxins from the pores. 
Bentonite: A natural clay that gently exfoliates the skin by binding to dirt, excess oil, and other impurities on the skin, unclogs pores, removes blackheads & controls sebum. 
Vegetable Glycerin: A natural emollient that adds a cooling effect on the skin and assists in retaining moisture. 
Sweet Almond Oil: Naturally-derived essential oil that keeps skin cells healthy, protects skin from UV radiation damage, and helps skin look smooth, soft, and free of fine lines. 
Ascorbic Acid: A naturally occurring organic compound with antioxidant properties that penetrates the skin tissue and stimulates collagen production to increase skin firmness. 
Orange Oil: A naturally-derived ingredient that maintains the health, appearance, and texture of the skin. 
Grapefruit Oil: Naturally-derived essential oil that contains naturally occurring alpha-hydroxy acids (AHAs) that help promote smoother, younger-looking skin by increasing the rate of cell renewal. 
Lemon Oil: A naturally-derived ingredient that regulates the build of impurities in skin surface sebum and the formation of unwanted blemishes. 
Eucalyptus Oil: A naturally-derived ingredient that has antibacterial, moisturizing, and anti-inflammatory properties which can treat eczema and acne flare-ups.
Coriander Seed Oil: A naturally-derived ingredient rich in vitamins that promote skin brightening, can help soothe and calm sensitive or irritated skin, and protects skin cells from oxidative stress. 
Tocopheryl Acetate: Stable form of Vitamin E that protects cell membranes from damage by oxygen free radicals, and prevents premature aging of the skin. 
Manuka Honey: A potent anti-inflammatory and& natural humectant that draws moisture into the skin and its hydration helps to further enhance the skin's elasticity and cell regeneration. 
Takeaway: Antioxidant Turmeric Mask for blemishes, acne, scars, dark spots, and more!
Achieve moisturized, radiant and blemish-free skin with our
Turmeric Face Mask
. Packed with Turmeric which contains antioxidants and anti-inflammatory components, this responsibly sourced face mask revives your skin by bringing out its natural glow. Its skin-lightening and microcirculation-boosting powers will also give you a perfect recipe for fighting signs of aging — all in one ingredient.
Key Benefits:
Moisturizes skin and helps reduce blemishes

Draws out deep-seated dirt and impurities

Removes dead skin cells and unclogs pores

Diminishes scars and dark spots

Prevents breakouts and fights signs of aging
This Turmeric face mask is suitable for all skin types, from oily, combination, and sensitive skin to dry and normal skin. 
Beauty Tips for healthier, glowing skin.
You may also like to read:
Leave a Comment
Please note, comments must be approved before they are published.